Madeira – Gran Canaria du 28/10/23 au 04/11/23
Madeira – Gran Canaria du...
Sailcharter: From Madeira to Gran Canaria in our sailboat rental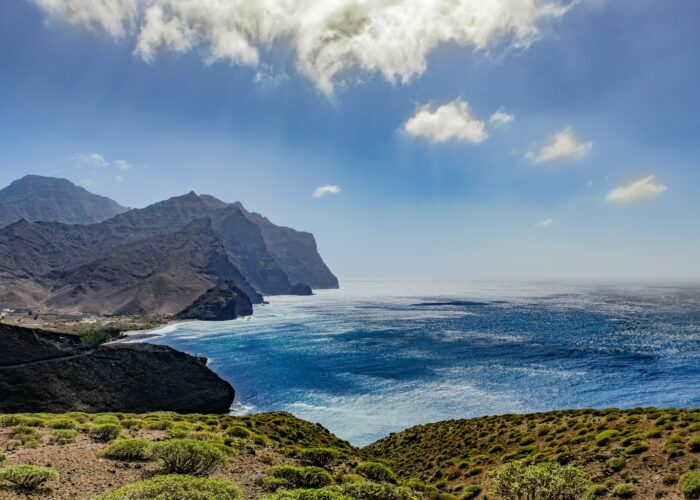 If you want to take your sailing skills to the next level, whether you're an experienced sailor or just taking your first steps aboard a boat, there's nothing like sailing in the waters of the Atlantic to learn. Hop aboard our beautiful sailcharter, Vivanita, in Madeira and set sail for the stunning Canary Islands, with stops in Lanzarote and Fuerteventura before finally concluding the journey in Gran Canaria. The departure is scheduled for October 28, 2023, from Madeira, and the expected arrival in magical Gran Canaria is on November 4, 2023.

Join Navi-Gate and learn all you need about sailing in our next cruise!

Enjoy a full week of sailing aboard a beautiful sailboat rental like Vivanita and hone your sailing skills to become the sailor you've always wanted to be. Experience a true maritime adventure in the waters of the Atlantic, revel in incredible and varied landscapes, from the lush natural beauty of Madeira to the volcanic enclaves of the Canary Islands, and enjoy sailing like never before while learning how to sail a 14-meter sailboat easily and safely.
1. Why sail from Madeira to Gran Canaria with our sailcharter, Vivanita?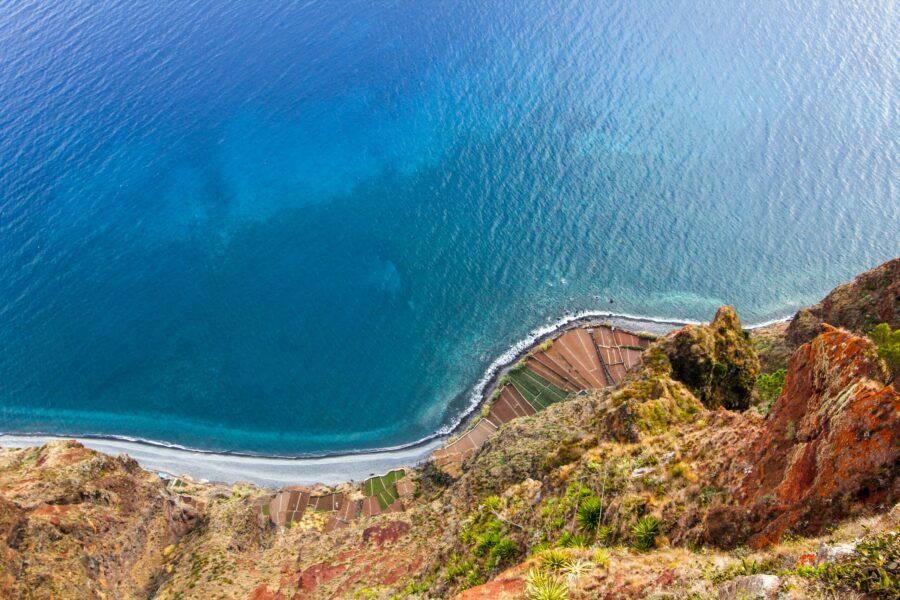 Sailing from Madeira to Gran Canaria with our sailboat rental, Vivanita, offers a unique and enriching experience for both novice and experienced sailors. Here are compelling reasons to embark on this sailing adventure:
1. Skill Development:
Whether you're a seasoned sailor or a beginner, this voyage provides an opportunity to develop and refine your sailing skills. Gain practical experience in various aspects of sailing, from navigation to sail handling.
2. Atlantic Crossing:
Crossing the Atlantic Ocean is a significant achievement in the sailing world. It's a chance to experience the challenges and rewards of long-distance ocean sailing, enhancing your seamanship and confidence.
3. Varied Landscapes:
From the lush, green landscapes of Madeira to the volcanic terrain of the Canary Islands, this voyage offers diverse and visually stunning scenery. Each stop along the way reveals unique natural beauty.
4. Island Hopping:
Explore multiple islands along the route, including Madeira, Lanzarote, Fuerteventura, and Gran Canaria. Discover their individual charm, culture, and attractions.
5. Camaraderie:
Join a crew of fellow sailing enthusiasts and develop strong bonds as you work together to navigate the open ocean. Shared experiences foster a sense of camaraderie and adventure.
6. Adventure and Exploration:
Sail through the Atlantic archipelago, experiencing the thrill of open-water navigation while making stops to explore islands, coastal towns, and local culture.
7. Sailboat Rental Comfort:
Enjoy the comfort and amenities of Vivanita, a beautiful sailboat rental equipped for an extended voyage. Relax on deck, savor delicious onboard meals, and unwind in the cozy cabins.
8. Expert Guidance:
Benefit from the guidance of our experienced skipper, Aurelien, who can provide valuable insights, safety expertise, and hands-on instruction. Learn from a professional while enjoying the journey.
9. Self-Discovery:
Ocean crossings provide a unique opportunity for self-discovery and personal growth. Overcome challenges, test your limits, and build resilience as you adapt to life at sea.
10. Sailing Achievement:
Completing the journey from Madeira to Gran Canaria is a noteworthy sailing achievement that can be added to your maritime resume. It's a journey you'll remember for a lifetime.
11. Nature and Wildlife
Keep an eye out for marine wildlife, including dolphins, whales, and seabirds. Observing these creatures in their natural habitat is a remarkable experience.
12. Island Culture
Immerse yourself in the vibrant culture and traditions of the Canary Islands. Sample local cuisine, explore historic sites, and interact with friendly locals.
13. Landscape Contrasts
Witness the contrast between the volcanic landscapes of the Canary Islands and the lush, green beauty of Madeira, providing a dynamic and ever-changing backdrop to your voyage.
14. Landscape Contrasts
Witness the contrast between the volcanic landscapes of the Canary Islands and the lush, green beauty of Madeira, providing a dynamic and ever-changing backdrop to your voyage.
15. Memorable Sunsets and Night Sailing
Experience unforgettable sunsets over the open ocean and try your hand at night sailing, deepening your connection to the maritime world.

Sailing from Madeira to Gran Canaria with Vivanita is not just a voyage; it's a transformative journey that combines adventure, learning, and exploration. It's a chance to challenge yourself, acquire new skills, and create lasting memories while sailing through the stunning Atlantic archipelago.
2. What would you learn sailing in Atlantic waters with our sailcharter, Vivanita?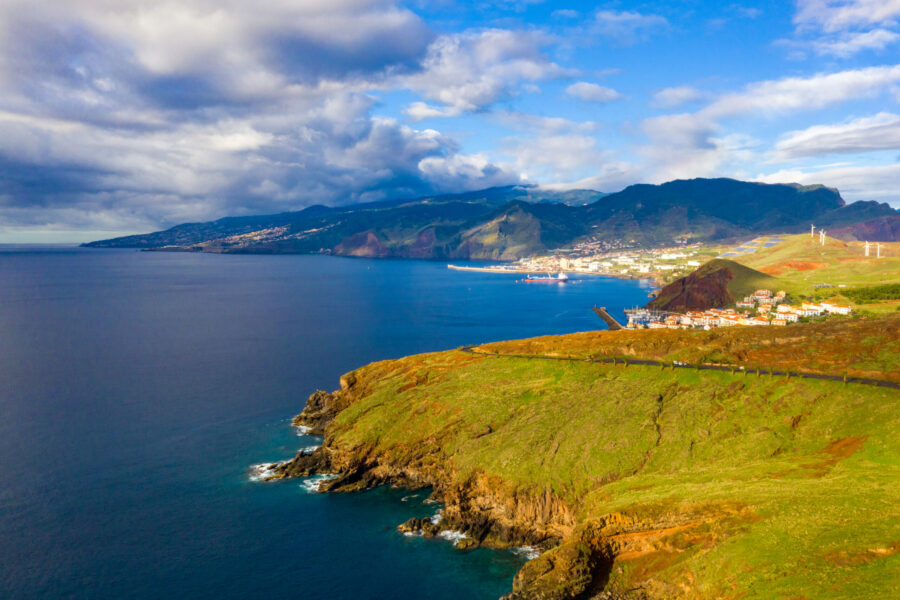 Sailing in Atlantic waters with our sailcharter, Vivanita, offers a unique and educational experience that allows you to acquire valuable skills and knowledge. Here's what you can learn while sailing in the Atlantic:

1. Ocean Navigation: Gain hands-on experience in navigating open ocean waters. Learn to set courses, use navigational tools, and plot routes over extended distances.

2. Weather Patterns: Understand the Atlantic's weather patterns, including trade winds, currents, and tropical weather systems. Learn to interpret weather forecasts and make informed decisions for safe sailing.

3. Celestial Navigation: Familiarize yourself with celestial navigation techniques, such as using the sun, moon, stars, and planets to determine your position. This traditional skill is essential for long-distance sailing.

4. Sail Trim: Master sail trim techniques to optimize performance and efficiency. Learn how to adjust sails for various wind conditions and points of sail.

5. Watchkeeping: Develop watchkeeping skills for continuous monitoring of the vessel while at sea. Learn to maintain a safe and efficient watch schedule with your crewmates.

6. Emergency Procedures: Gain knowledge of emergency procedures, including man-overboard drills, storm preparations, and distress signaling. Be prepared to respond effectively to unexpected situations.

7. Seamanship: Enhance your seamanship skills, such as anchoring, mooring, and docking in different environments. Learn the art of handling a sailboat in diverse conditions.

8. Safety Protocols:Understand and practice safety protocols and equipment usage, including life jackets, harnesses, and safety lines. Learn how to conduct safety drills with your crew.

9. Provisioning and Galley Skills: Learn to provision and manage supplies for extended voyages. Acquire basic galley (kitchen) skills for preparing meals aboard.

10. Communication: Develop effective communication skills with your crew, including clear and concise radio communications. Learn to use onboard communication systems.
11. Teamwork: Cultivate strong teamwork and cooperation among your crewmates. Understand your roles and responsibilities while working together to achieve common goals.

12. Cruising Lifestyle: Experience the cruising lifestyle, which involves self-sufficiency, resource management, and adapting to life at sea for extended periods.

13. Sailing Philosophy: Gain a deeper appreciation for the philosophy of sailing, including the connection to nature, self-reliance, and the simple pleasures of life afloat.

14. Environmental Awareness: Foster an awareness of the marine environment and practice responsible sailing and anchoring techniques to minimize ecological impact.

15. Self-Reliance: Develop self-reliance skills, including troubleshooting and minor repairs to keep the vessel in good working condition during extended passages.

16. Passage Planning: Learn the art of passage planning, including route selection, waypoint navigation, and contingency planning for various scenarios.

17. Navigation Technology: Familiarize yourself with modern navigation technology, such as GPS and electronic chart plotters, while also appreciating traditional methods.

18. Cultural Exposure: Develop self-reliance skills, including troubleshooting and minor repairs to keep the vessel in good working condition during extended passages.

Sailing in Atlantic waters with Vivanita offers not only the thrill of open-water sailing but also an educational journey that equips you with the skills and experience needed for long-distance ocean voyaging. It's an opportunity to immerse yourself in the maritime world and embrace the challenges and rewards of extended cruising.
3. What to see around the Canary Islands sailing with our sailcharter Vivanita?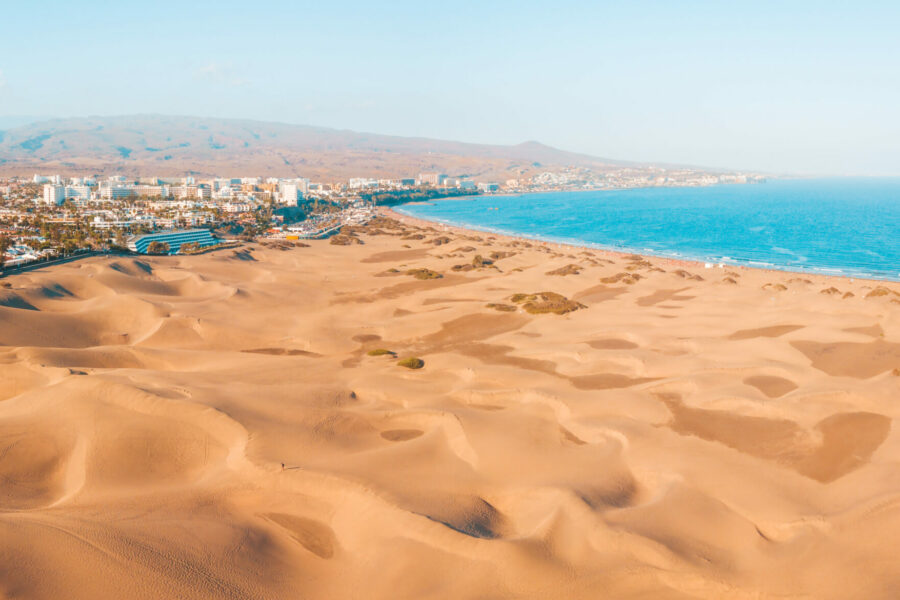 Sailing around the Canary Islands with Vivanita is a fantastic opportunity to explore the unique landscapes, culture, and attractions of this archipelago. Here's what you can see and experience around Lanzarote and Fuerteventura, the two stops on the route before reaching Gran Canaria:
1. Lanzarote
1.1. Timanfaya National Park: Visit this otherworldly landscape shaped by volcanic activity. You can take a guided tour to witness geothermal demonstrations, including cooking with volcanic heat.

1.2. César Manrique Foundation:: Explore the former home of the famous artist César Manrique, which has been turned into a museum. It's a testament to his unique blend of art and nature.

1.3. Jameos del Agua:: Descend into lava tube caves that have been transformed into a stunning attraction. Admire the natural beauty and unique architecture of this subterranean wonder.

1.4. La Geria Wine Region: Lanzarote's wine region is unique due to its volcanic soil and low stone walls that protect the vines from the wind. Visit local wineries and sample some of the island's wine.

1.5. Playa Papagayo:: Relax on the beautiful white sandy beaches of Papagayo, where you can swim, snorkel, or simply soak up the sun.
2. Fuerteventura
2.1. Corralejo Dunes Natural Park: Explore the extensive sand dunes of Corralejo, a protected area with stunning desert-like landscapes. It's a popular spot for sandboarding and windsurfing.

2.2. Betancuria: Visit the historic town of Betancuria, the former capital of Fuerteventura. Explore its charming streets, churches, and museums, including the Archaeological Museum.

2.3. Ajuy Caves: Venture into the fascinating Ajuy Caves, a network of sea caves formed by volcanic activity. The caves offer a glimpse into Fuerteventura's geological history.

2.4. El Cotillo: Discover the picturesque fishing village of El Cotillo, known for its beautiful beaches and lagoons. It's an ideal place for swimming and water sports.

2.5. Tindaya Mountain: Take a hike or drive to the base of Tindaya Mountain, a sacred site with petroglyphs. The mountain itself has a distinctive flat top and is of cultural significance.

2.6. Islet of LobosIf time allows, consider a day trip to the nearby Islet of Lobos, a protected natural park with pristine beaches and hiking trails.

As you sail from Lanzarote to Fuerteventura and eventually to Gran Canaria, you'll have the opportunity to immerse yourself in the unique beauty and culture of each island. These stops along the route offer a diverse range of experiences, from geological wonders to historical sites and pristine beaches, making your Atlantic sailing journey even more memorable.
4. Why is sailing in the Canary Islands so popular?

Sailing in the Canary Islands is incredibly popular for various reasons, and the opportunity to learn and develop sailing skills is a significant part of its appeal. Here's why sailing in the Canary Islands is a top choice for sailors looking to enhance their skills:
1. Varied and Predictable Weather:
The Canary Islands enjoy a pleasant climate year-round, making it an ideal destination for sailing. The consistent trade winds, mild temperatures, and relatively calm waters provide a stable and predictable environment for sailors to practice and develop their skills.
2. Diverse Sailing Conditions:
The archipelago offers diverse sailing conditions, from open-ocean passages to sheltered coastal cruising. This diversity allows sailors to experience a wide range of scenarios and challenges, contributing to their skill development.
3. Island Hopping:
The Canary Islands are an archipelago of several islands, each with its unique charm and sailing opportunities. Sailors can easily hop from one island to another, gaining experience in various settings, such as marinas, anchorages, and open waters.
4. Navigational Challenges:
The Canary Islands offer navigational challenges that can help sailors hone their skills. From plotting courses using celestial navigation to mastering modern GPS technology, there are plenty of opportunities to develop navigation expertise.
5. Ocean Crossings:
The Canary Islands serve as a gateway to ocean crossings, including transatlantic voyages. Aspiring bluewater sailors often use the Canary Islands as a departure point for longer journeys, learning valuable lessons in long-distance seamanship.
6. Competitive Events:
The Canary Islands host a range of sailing events and regattas throughout the year. Participating in these competitions not only allows sailors to put their skills to the test but also offers a chance to learn from seasoned competitors.
7. Safety and Support:
The Canary Islands have well-established maritime infrastructure, including marinas, repair facilities, and rescue services. Sailors can feel confident in their safety while having access to support if needed.
8. Cultural Experiences:
Beyond the sailing aspect, the Canary Islands offer rich cultural experiences. Exploring local traditions, cuisine, and communities adds depth to the overall sailing journey.
9. Scenic Beauty:
The natural beauty of the Canary Islands is awe-inspiring. Sailors have the opportunity to enjoy stunning coastal landscapes, crystal-clear waters, and diverse marine life while perfecting their sailing techniques.

Overall, the Canary Islands provide an excellent backdrop for sailors to not only enjoy the beauty of the seas but also to continuously learn and refine their sailing skills. Whether you're a novice or an experienced sailor, the Canary Islands offer a welcoming environment for personal growth and seamanship development.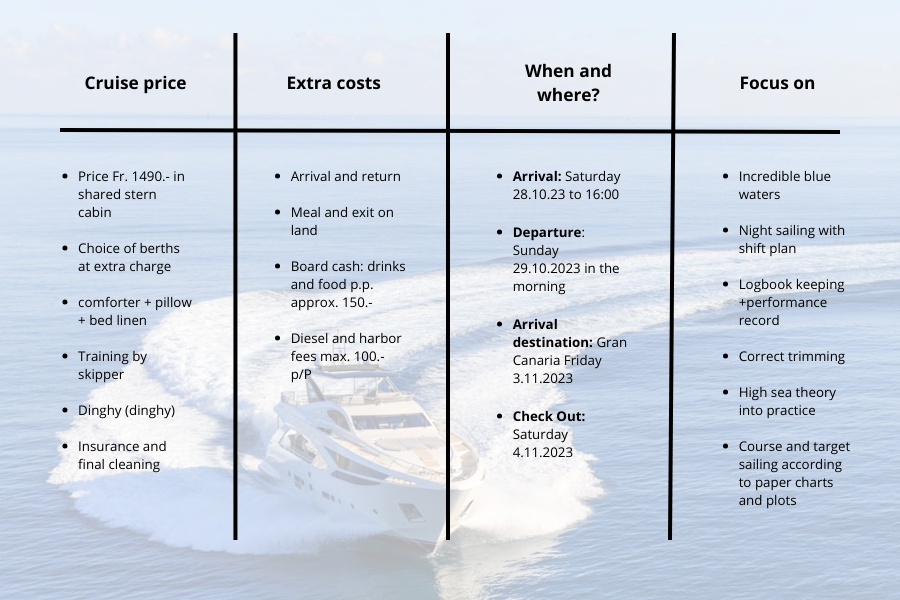 Are you still thinking about it? Decide now and don't miss your place in this amazing adventure aboard Vivanita. Book to sail with us during a complete week from Madeira to Canary Islands and develop your sailing skills with the help of our professional skipper, Aurelien!
Know Vivanita!
Our sailboat rental Vivanita is a 14 meters sailboat with 2 cabins, completely equipped and ready to sail with between 4-5 persons
Know our skipper!
André Kälin est son nom

André est un instructeur de voile suisse, passionné de Kite Surfing et de voile.
Il est connu pour être un instructeur de voile très calme et compétent. Que vous soyez débutant ou confirmé, André est capable et désireux de vous aider à améliorer vos compétences, en toute sécurité.