Badalona – Malaga from 10/10/23 to 19/10/23
Badalona – Malaga from 10/10/23...
Spain|
Vivanita|
Sailcharter: From Badalona to Málaga in our sailboat rental!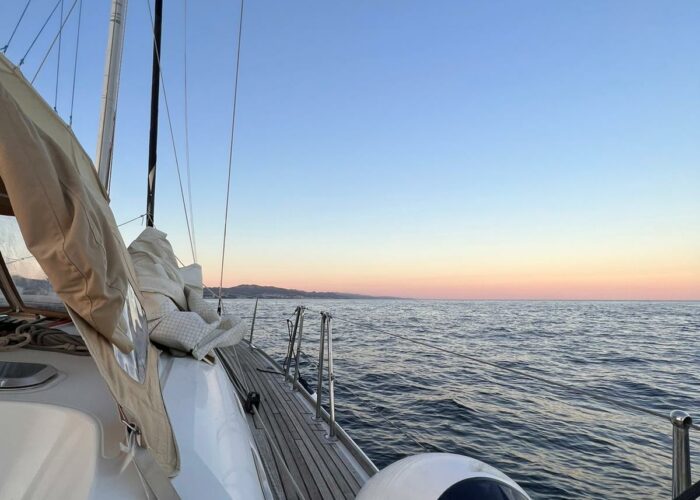 Are you looking for a unique adventure where you can enjoy sailing while learning and gaining experience in a safe and comfortable way? Then you can't miss sailing from the beautiful coast of Badalona to the iconic city of Málaga aboard our beautiful 14-meter sailcharter, Vivantia, from October 10th to October 19th of 2023. Join Navi-Gate and learn all you need about sailing in our next cruise!

Explore the Mediterranean coast of the Iberian Peninsula alongside our professional skipper, passing through iconic locations like the Costa Dorada in Tarragona, sailing on to the Costa Blanca in Alicante, and finally reaching Málaga after navigating the waters of places like Almería and Granada.

Seize the unique opportunity of our Sailcharter on board the beautiful sailboat Vivantia and gain the sailing experience you've always wanted.
1. Why sail from Badalona to Málaga with our sailcharter, Vivanita?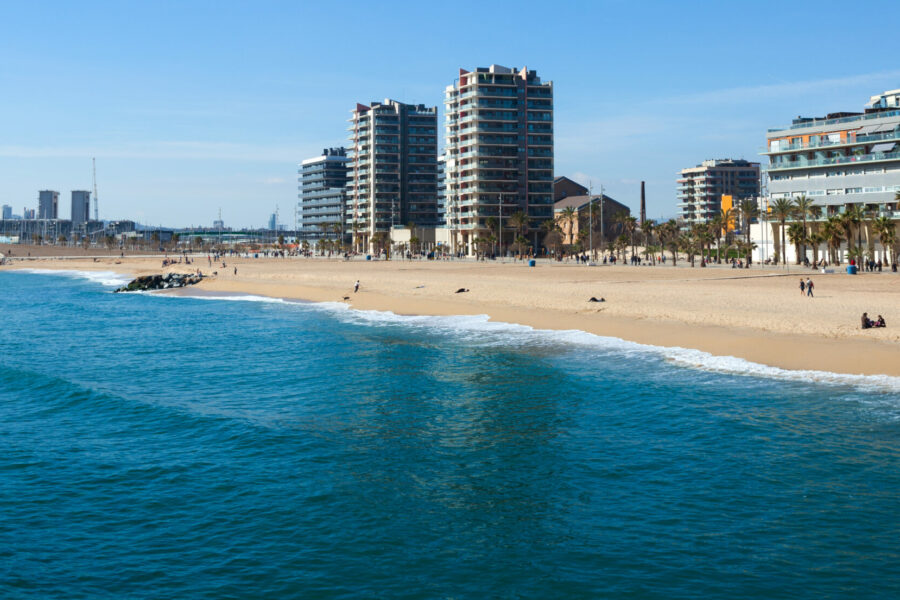 Sailing from Badalona to Málaga with a sailcharter offers a unique opportunity to embark on an educational and enriching experience. Here's why this journey can be both educational and safe for those looking to learn and enjoy sailing:
1. Hands-On Learning:
Renting a sailboat allows you to actively participate in the sailing experience. You can learn the ropes, understand the principles of navigation, and acquire essential sailing skills. It's a practical, hands-on way to gain valuable experience.
2. Professional Guidance:
If you're new to sailing or not yet confident in your sailing abilities, don't care, our skipper Aurelien is a professional with experience in the field, so he will take care of every detail. He will provide guidance, teach you the ropes, and ensure a safe and enjoyable voyage while imparting their knowledge.
3. Safety First:
Safety is a top priority in sailing. Sailboat rentals typically come equipped with safety equipment, including life vests, communication devices, and navigation tools. You'll learn how to use these tools effectively to ensure a secure journey.
4. Navigation Skills:
Sailing from one coastal destination to another involves navigation skills such as chart reading, route planning, and understanding weather conditions. This experience allows you to hone your navigation skills, which can be valuable for future sailing adventures.
5. Teamwork:
Sailing is a collaborative effort that requires teamwork and communication among crew members. Whether you're sailing with friends, family, or a crew, you'll develop strong teamwork skills and build connections with fellow sailors.
6. Problem Solving:
Sailing often presents unexpected challenges, such as changing weather conditions or equipment issues. Learning how to adapt, troubleshoot problems, and make informed decisions is an essential part of the sailing experience.
7. Environmental Awareness:
Sailing promotes a deep connection with the environment and an appreciation for marine ecosystems. You'll gain a heightened awareness of the sea's beauty and fragility, fostering a sense of responsibility for its preservation.
8. Personal Growth:
Sailing is not only about acquiring technical skills but also about personal growth. It can boost confidence, patience, and self-reliance. It's an opportunity to push your boundaries and discover your capabilities.

By embarking on this sailboat rental journey from Badalona to Málaga, you can combine the thrill of adventure with a valuable educational experience. Whether you're a novice sailor or seeking to enhance your sailing skills, this voyage offers a safe and enjoyable way to learn, grow, and appreciate the art of sailing.
2. What can you see around Badalona sailing with our sailcharter?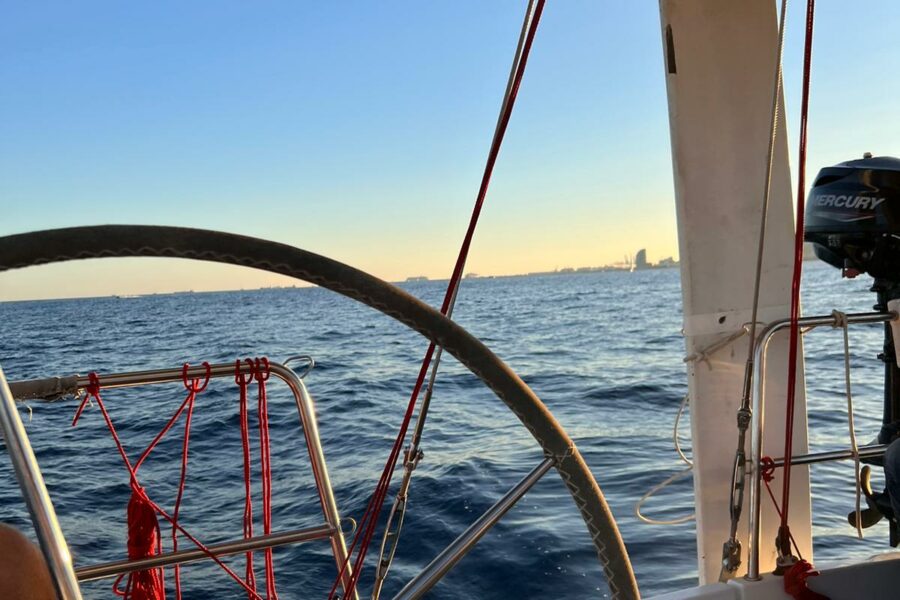 Sailing with our sailcharter, Vivanita, around Badalona, which is located on the northeastern coast of Spain, offers a variety of scenic and interesting sights along the Catalan coastline. Here are some highlights of what you can see and explore while sailing in the vicinity of Badalona:

1. Badalona's Beaches: Badalona boasts several beautiful beaches, including Playa de la Barca Maria, Playa de la Mora, and Playa del Cristall. You can enjoy swimming, sunbathing, and water sports activities in these pristine coastal areas.

2. Barcelona Skyline: Sailing south toward Barcelona, you'll be treated to stunning views of the city's skyline, including iconic landmarks like the Sagrada Familia, the W Barcelona Hotel, and the Torre Glòries (formerly known as Torre Agbar).

3. Port Olímpic: Barcelona's Port Olímpic, built for the 1992 Summer Olympics, is a modern marina featuring a variety of bars, restaurants, and nightlife options. It's a lively place to visit and take in the atmosphere.

4. Marine Life: Keep an eye out for marine life such as dolphins, sea turtles, and a variety of fish species that inhabit the Mediterranean waters. Sailcharter provides an excellent vantage point for wildlife observation.

5. Coves and Bays: The Catalan coastline is dotted with hidden coves and secluded bays. These tranquil spots are perfect for dropping anchor, swimming in crystal-clear waters, and enjoying a peaceful day at sea.

6. Water Sports: If you're into water sports, you can engage in activities like snorkeling, paddleboarding, and kayaking along the coast.

7. Local Cuisine: While sailing, you can stop at coastal towns and indulge in delicious Catalan cuisine. Try fresh seafood dishes, paella, and other regional specialties at waterfront restaurants.

Sailing around Badalona and its neighboring coastal areas offers a mix of natural beauty, cultural attractions, and recreational opportunities, making it a delightful destination for both experienced and novice sailors.
3. What can you see around Málaga sailing with our sailcharter?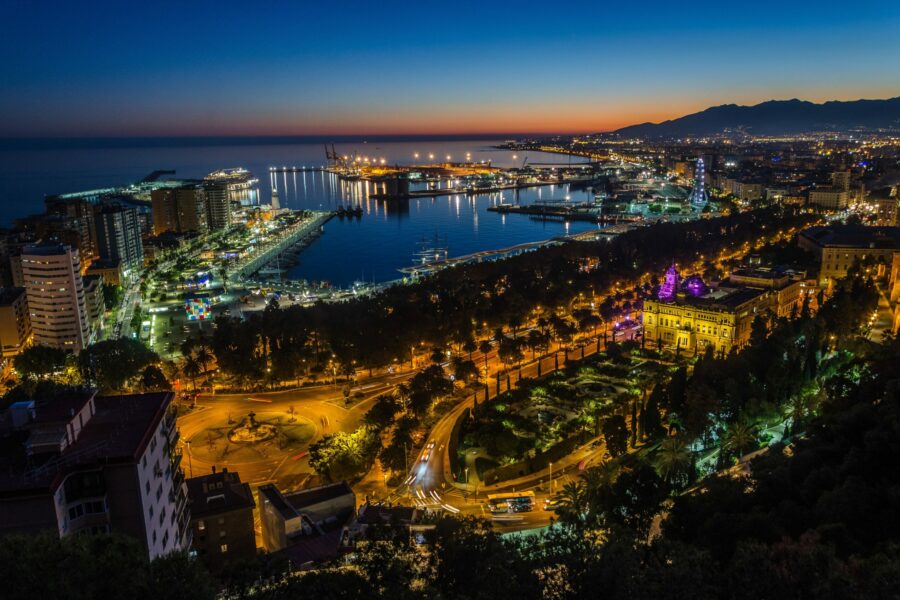 Sailing around Málaga with our sailboat rental Vivanita, provides access to a diverse range of attractions and scenic spots along the Costa del Sol and the Mediterranean coastline. Here are some of the highlights of what you can see and explore while sailing in Málaga:

1. Málaga Cityscape: Begin your journey with views of Málaga's beautiful skyline, featuring historic architecture, including the Alcazaba fortress and the Gibralfaro Castle. The city's blend of old and modern architecture is a sight to behold from the water.

2. Costa del Sol Beaches: The coastline along the Costa del Sol is renowned for its golden sandy beaches. You can anchor at various beaches, like Playa de la Malagueta and Playa de la Misericordia, to swim, relax, and soak up the sun.

3. Marinas: Explore the marinas along the coast, including the Málaga Marina and Puerto Deportivo Benalmádena, where you can find restaurants, shops, and a vibrant atmosphere.

4. Mijas: The charming white-washed village of Mijas Pueblo is perched on a hill overlooking the sea. Its narrow streets, donkey taxis, and breathtaking views make it a delightful stop.

5. Marbella: Marbella is known for its luxury resorts, upscale dining, and vibrant nightlife. The marina, Puerto Banús, is a hotspot for celebrity sightings and luxury yachts.

6. Puerto de la Duquesa: Located west of Málaga, this picturesque marina offers a quieter and more relaxed atmosphere, with a range of bars and restaurants to enjoy.

7. Wildlife: Keep an eye out for marine life, such as dolphins and sea turtles, which are commonly spotted in the Mediterranean waters. Birdwatchers may also appreciate the various seabird species.

8. Water Activities: Sailing in this region provides excellent opportunities for water activities like snorkeling, diving, and paddleboarding. Many coves and bays are perfect for swimming and exploring underwater life.

9. Local Cuisine: Along the coast, you can discover excellent seafood restaurants and beachfront chiringuitos serving traditional Spanish dishes and fresh catches of the day.

Sailing along the Málaga coastline offers a combination of cultural experiences, natural beauty, and recreational opportunities. Whether you're interested in exploring historic sites, relaxing on beautiful beaches, or indulging in local cuisine, there's something for everyone to enjoy while sailing in this vibrant region of Spain.
4. How is sailing in Mediterranean waters with our sailcharter? What will you learn?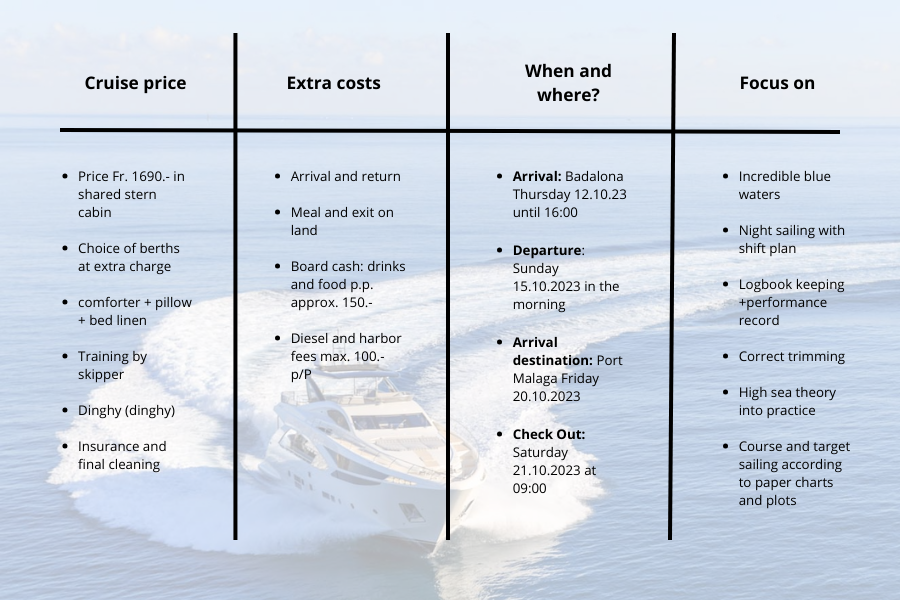 Sailing in Mediterranean waters with a sailboat rental provides an ideal environment for learning and honing sailing skills. Here's how the Mediterranean offers an excellent setting for both novice and experienced sailors to expand their sailing knowledge:
1. Balmy Mediterranean Climate:
The Mediterranean region enjoys a Mediterranean climate, characterized by warm and stable weather during the sailing season. This climate provides a comfortable and predictable environment for learning and practicing sailing techniques.
2. Gentle Winds:
While the Mediterranean does experience strong winds in some areas, it is generally known for its gentle and consistent breezes, making it suitable for sailors of all levels. Novice sailors can build confidence in these conditions, while experienced sailors can refine their skills.
3. Varied Navigation:
The Mediterranean offers diverse sailing experiences, from calm coastal cruising to more challenging open-water passages. This diversity allows sailors to gradually progress in their abilities, from basic maneuvers in sheltered harbors to more advanced navigation in open seas.
4. Safe and Well-Marked Waters:
The Mediterranean is known for its well-marked channels, navigational aids, and safety infrastructure, providing a secure environment for learning. Novice sailors can feel confident navigating these well-maintained waters.
5. Island Hopping Opportunities:
Sailing in the Mediterranean often involves island hopping, where you can practice various sailing techniques while moving from one island to another. Each island presents unique challenges and experiences, allowing you to continuously learn and adapt.
6. Local Knowledge:
Interacting with local sailors and mariners can provide valuable insights into the specific conditions and challenges of the Mediterranean. Locals often share tips and recommendations, enhancing your understanding of the region.
7. Cultural Experience:
Sailing in the Mediterranean is not just about learning sailing skills; it's also an opportunity to immerse yourself in different cultures, languages, and cuisines. You can learn about the maritime traditions of the Mediterranean while exploring its coastal towns and cities.
8. Safety Emphasis:
Safety is paramount in Mediterranean sailing, and rental companies and instructors prioritize safety measures, such as safety briefings, safety equipment, and emergency procedures. Learning to prioritize safety is an essential part of becoming a proficient sailor.
9. Sense of Achievement:
Sailing in the Mediterranean can be a challenging yet rewarding experience. As you acquire and apply new skills, you'll gain a sense of accomplishment and confidence in your abilities as a sailor.

Whether you're a beginner seeking to learn the basics of sailing or an experienced sailor looking to expand your repertoire of skills, the Mediterranean offers a diverse and supportive environment for sailors of all levels to learn, practice, and enjoy the art of sailing.

Still thinking about it? Book now and join us with the amazing sailboat Vivanita in this amazing adventure through the Mediterranean waters and develop your sailing skills as you never thought you would!
Know Vivanita!
Our sailboat rental Vivanita is a 14 meters sailboat with 2 cabins, completely equipped and ready to sail with between 4-5 persons
Know our skipper!
André Kälin is his name

André is a Swiss sailing instructor, pationated about Kite Surfing and sailing.
He is know to be a very calm and competant sailing instructor,. Either if you are a beginner or an advanec sailor, André is a able and willing to help you improve your skills, in safety