Canary Islands from 04/11/23 to 11/11/23
Canary Islands from 04/11/23 to...
Spain|
Vivanita|
Sailcharter: know the Canary Islands Sailing with our sailboat rental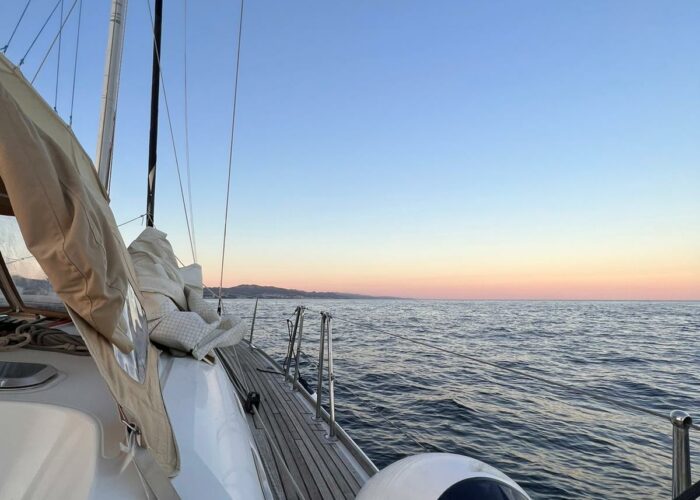 The Canary Islands are a globally renowned destination for sailing due to several reasons, with the primary one being the significant potential they offer to help you perfect or learn to sail, regardless of your skill level. From experienced sailors to beginners stepping aboard a boat for the first time, the stable climate of the Canary Islands and the versatility of its landscapes provide ideal conditions for gaining sailing experience aboard our sailcharter, Vivanita.

Join Navi-Gate and learn all you need about sailing in our next cruise!

Have you always wanted to learn to sail, gain experience, and navigate the seas? Well, few destinations are better to start than the Canary Islands. Be amazed by its volcanic sand beaches, magnificent surf waves, and versatility when it comes to sailing. Enjoy the waters of the Atlantic like never before during a full week: embark with us aboard the sailboat rental Vivanita on November 4, 2023, and sail across the entire Canary archipelago until November 11, 2023, learning from our professional skipper, Aurelien, who will teach you everything you need to know in a comfortable and secure manner, always, of course, enjoying the sea to the fullest!
1. What would you learn with our sailcharter Vivanita sailing around the Canary Islands?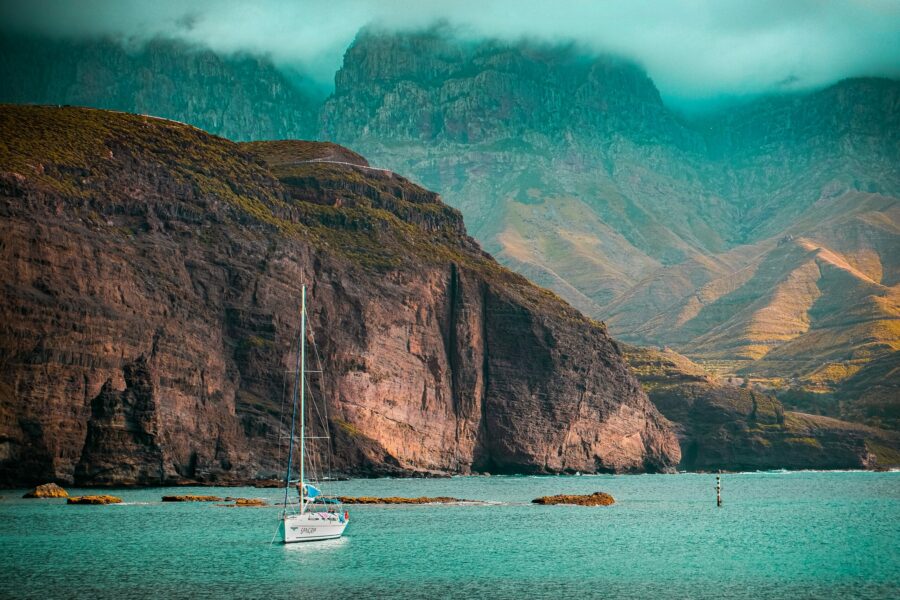 Sailing around the Canary Islands on the sailcharter Vivanita can provide you with a rich and diverse learning experience in several areas:
1. Sailing Skills:
You will learn essential sailing skills such as navigation, handling sails, anchoring, and maneuvering the boat. Depending on your level of experience, you may also have the opportunity to learn more advanced sailing techniques.
2. Navigation:
Navigating around the Canary Islands will teach you how to use charts, GPS, and other navigation tools. You'll learn how to plan routes, factor in weather conditions, and make course adjustments as needed.
3. Weather and Climate:
The Canary Islands have a varied climate, and sailing in this region will expose you to different weather patterns. You'll learn how to interpret weather forecasts and make decisions about when it's safe to sail and when it's best to stay in port.
4. Marine Life and Ecology:
The Canary Islands are known for their diverse marine life. You may have the chance to learn about the local marine ecosystem, including fish, dolphins, whales, and other sea creatures. Understanding the importance of protecting these ecosystems is a valuable lesson.
5. Cultural and Historical Knowledge:
Each of the Canary Islands has its own unique culture and history. As you explore the islands, you'll gain insights into their traditions, cuisine, and historical significance. This cultural enrichment can be an important aspect of the learning experience.
6. Seamanship and Safety:
Safety is paramount in sailing. You'll learn about safety procedures, including how to handle emergencies, use safety equipment, and conduct proper maintenance on the boat.
7. Teamwork and Communication:
Sailing often involves working closely with a crew. You'll learn how to communicate effectively with your fellow sailors, distribute tasks, and work together as a team to ensure a successful voyage.
8. Self-Reliance:
Sailing can teach self-reliance and problem-solving. You'll learn to adapt to changing conditions and troubleshoot issues that may arise during your journey.
9. Cruising Lifestyle:
Sailing around the Canary Islands can also introduce you to the cruising lifestyle. This includes learning how to provision, cook onboard, and live comfortably on a boat for extended periods.
10. Personal Growth:
Sailing can be a transformative experience that challenges you both mentally and physically. It can help you build confidence, resilience, and a sense of adventure.

Overall, sailing around the Canary Islands on the Vivanita can offer a well-rounded educational experience that combines practical sailing skills with cultural enrichment and personal growth. It's an opportunity to immerse yourself in the world of sailing and explore the beauty and diversity of this unique archipelago.
2. What can you see sailing around the Canary Islands with our sailboat Vivanita?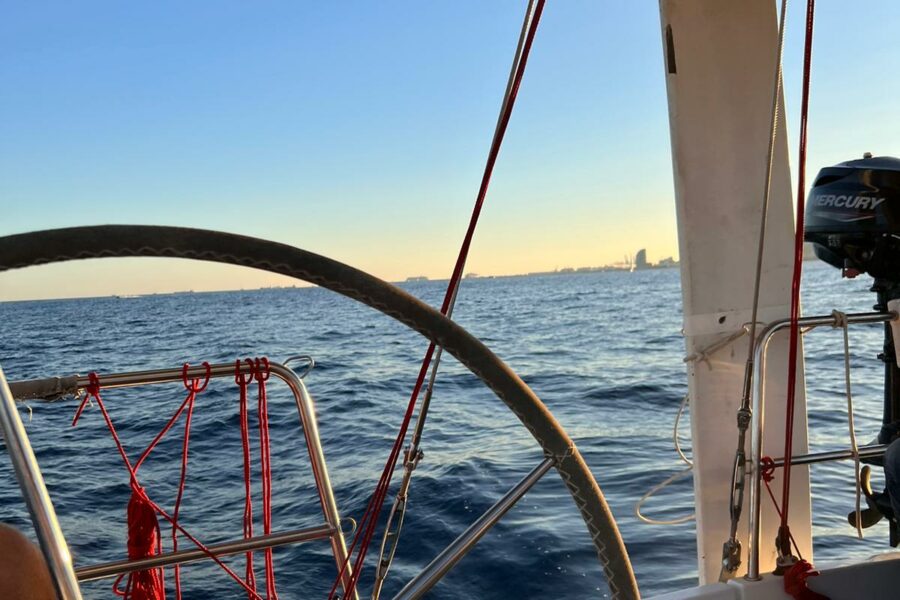 Sailing around the Canary Islands on the sailboat Vivanita offers a wide range of stunning sights and experiences on each island. Here are three points of interest you can see and explore on each of the main Canary Islands:
1. Tenerife
1.1. Teide National Park: Tenerife is home to Mount Teide, Spain's highest peak and a UNESCO World Heritage Site. You can see this impressive volcano and explore the surrounding national park, known for its unique lunar-like landscapes.

1.2. La Orotava: This historic town is known for its well-preserved colonial architecture, beautiful gardens, and the Casa de los Balcones, a 17th-century mansion with exquisite wooden balconies.

1.3. Anaga Rural Park: Anaga is a lush, mountainous region with ancient laurel forests and picturesque hiking trails. The park offers breathtaking views and opportunities for nature exploration.
2. Gran Canaria
2.1. Dunas de Maspalomas: Explore the stunning sand dunes of Maspalomas on the southern coast of Gran Canaria. These dunes create a unique desert-like landscape that stretches along the coastline.

2.2. Las Palmas de Gran Canaria: Visit the vibrant capital city of Gran Canaria, known for its historic old town, beautiful beaches like Las Canteras, and cultural attractions such as the Christopher Columbus House Museum.

2.3. Roque Nublo: Hike to the iconic Roque Nublo, a volcanic rock formation that offers panoramic views of the island's dramatic landscapes and is a symbol of Gran Canaria.
3. Lanzarote
3.1. Timanfaya National Park: Witness the surreal volcanic landscapes of Timanfaya, often referred to as "Fire Mountains." You can see geysers, steaming craters, and experience the otherworldly scenery of this protected park.

3.2. Cueva de los Verdes: Explore the underground lava tubes of Cueva de los Verdes, created by volcanic eruptions. The caves offer a fascinating look into Lanzarote's geological history.

3.3. Jameos del Agua: Visit Jameos del Agua, a unique cave complex designed by artist César Manrique. It features a stunning underground lake, white albino crabs, and a beautiful restaurant.
4. Fuerteventura
4.1. Corralejo Natural Park: Explore the sand dunes and pristine beaches of Corralejo Natural Park. The golden sands and crystal-clear waters make it a paradise for beach lovers.

4.2. Betancuria: Visit the historic town of Betancuria, the former capital of Fuerteventura. It's known for its charming architecture, museums, and scenic surroundings.

4.3. Ajuy Caves: Discover the Ajuy Caves, a series of sea caves formed by erosion. You can explore these caves and enjoy beautiful ocean views from the coastal cliffs.

These are just a few of the many incredible sights you can experience while sailing around the Canary Islands on the Vivanita. Each island has its own unique natural beauty, cultural attractions, and outdoor adventures to offer, making it a diverse and exciting sailing destination.
3. How is the climate in the Canary Islands?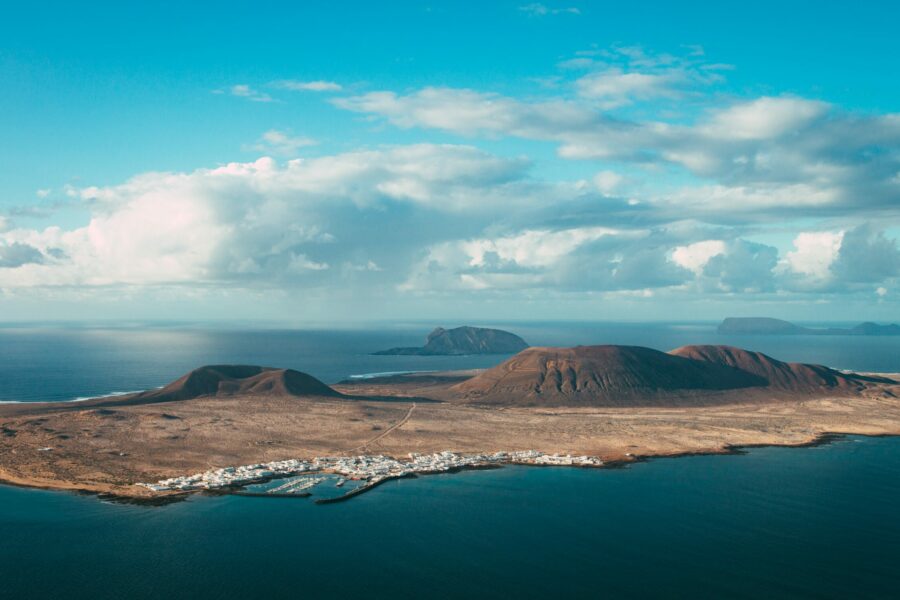 The climate in the Canary Islands is exceptionally well-suited for sailing, making it a popular destination for sailors and yachting enthusiasts. The islands benefit from a mild and stable climate throughout the year, making it possible to enjoy sailing adventures virtually any season. With pleasant temperatures, relatively low humidity, and consistent trade winds, the Canary Islands offer ideal conditions for both novice and experienced sailors.

The consistent trade winds, known as the "Canary Current" or "NE Trade Winds," are a defining feature of the Canary Islands' climate. These winds blow from the northeast, providing reliable and steady breezes that are perfect for sailing. They typically range from 10 to 25 knots, ensuring a consistent and enjoyable sailing experience. This dependable wind pattern allows for extended cruising, day sails, and even competitive sailing events.

The sea conditions around the Canary Islands are generally calm and welcoming to sailors. The archipelago is sheltered from large swells and rough seas, thanks to its position in the Atlantic Ocean. This makes it an excellent destination for sailors looking for a relatively stress-free and safe environment to navigate.

The islands' diverse topography also offers opportunities for various types of sailing experiences, from leisurely coastal cruising to more challenging open-water passages. Whether you're a beginner looking to gain confidence or an experienced sailor seeking a new adventure, the Canary Islands' climate and sailing conditions provide an ideal setting for maritime exploration.
4. How is it to sail in the Canary Islands with our sailcharter Vivanita?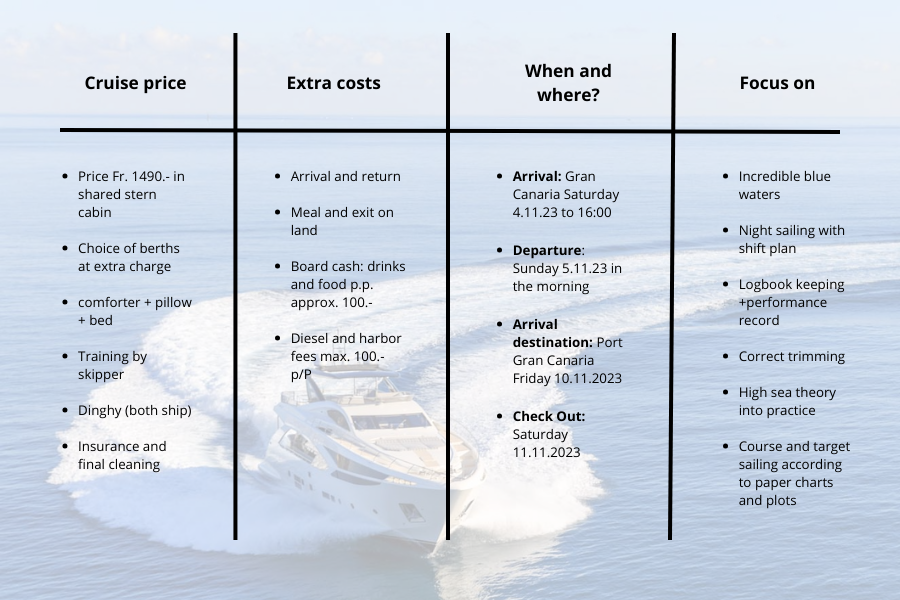 Sailing in the Canary Islands is a highly rewarding and enjoyable experience due to the favorable sailing conditions, diverse landscapes, and rich maritime culture. Here's what you can expect when sailing in the Canary Islands:
1. Stable Climate:
The Canary Islands boast a mild and stable climate throughout the year, making it a fantastic destination for sailing. With pleasant temperatures and consistent trade winds, you can plan your sailing adventures virtually any time of the year. This reliable weather pattern allows for safe and enjoyable sailing conditions.
2. Trade Winds:
The Canary Islands benefit from the prevailing trade winds, which blow from the northeast. These winds are known for their consistency and strength, typically ranging from 10 to 25 knots. They provide reliable and steady breezes that make sailing a pleasure, whether you're cruising along the coast or embarking on more extended passages between islands.
3. Varied Landscapes:
Each of the Canary Islands offers its own unique charm and diverse landscapes. From the lush, green north sides of islands like Tenerife to the arid, volcanic terrain of Lanzarote and Fuerteventura, sailors can enjoy a wide range of scenery as they navigate between ports and anchorages. The islands' natural beauty, dramatic cliffs, pristine beaches, and volcanic formations make for captivating views from the water.
4. Maritime Culture:
The Canary Islands have a rich maritime heritage and culture. You'll encounter bustling ports and marinas where you can connect with fellow sailors and access necessary services and amenities. The islands have a long history of seafaring, and this influence is evident in their local traditions, cuisine, and festivals.
5. Island-Hopping:
Sailing in the Canary Islands allows you to easily explore multiple islands in a single trip. Each island has its own unique attractions, from historic towns to natural wonders. Whether you're interested in vibrant city life, secluded anchorages, or cultural experiences, island-hopping is a fantastic way to discover the archipelago's diversity.
6. Water Activities:
Beyond sailing, the Canary Islands offer a wide range of water activities, including snorkeling, scuba diving, and windsurfing. The clear, warm waters make it a paradise for water sports enthusiasts.
7. Safe and Sheltered Waters:
The Canary Islands are well-protected from large swells and rough seas, making it a safe and welcoming environment for sailors. The islands' natural geography and numerous anchorages provide shelter from adverse weather conditions.
8. Cruising Services:
The islands have a developed infrastructure for cruising and yacht charter services. You'll find marinas, boat rental companies, and provisioning options readily available.

sailing in the Canary Islands offers an exceptional combination of ideal weather conditions, beautiful landscapes, and a vibrant maritime culture. Whether you're a seasoned sailor or a novice looking to gain experience, the Canary Islands provide an inviting and rewarding sailing experience in the heart of the Atlantic Ocean.

Still thinking about it? Book now and join us with the amazing sailboat Vivanita in this amazing adventure through the Atlantic waters around the Canary Islands and develop your sailing skills as you never thought you would!
Know Vivanita!
Our sailboat rental Vivanita is a 14 meters sailboat with 2 cabins, completely equipped and ready to sail with between 4-5 persons
Know our skipper!
André Kälin is his name

André is a Swiss sailing instructor, pationated about Kite Surfing and sailing.
He is know to be a very calm and competant sailing instructor,. Either if you are a beginner or an advanec sailor, André is a able and willing to help you improve your skills, in safety